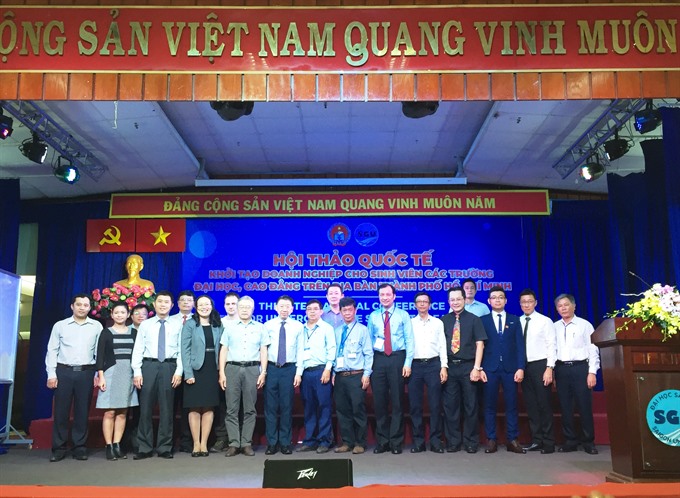 Experts attend a two-day international conference on "Startups for undergraduate students of universities and colleges in HCM City" that opened in HCM City on December 18. — VNS Photo Ngọc Diệp
Viet Nam News
HCM CITY — It is necessary to equip young people with a mindset characterised by innovation and enterprise, and empower them with the future skills needed for them to succeed, an expert told an international conference that opened in HCM City on Tuesday.
Andrew Chua, executive chairman and principal of the East Asia Institute of Management, Singapore, told a conference on start up that the fourth industrial revolution creates disruptions and dramatic changes that impact people in terms of how they work, develop careers, cultivate skills and relate with others.
Building and developing skills should be linked to science and technology and designed to prepare ourselves and our children, he told the two-day conference on "Startup for undergraduate students of universities and colleges in HCM City" organised by the city Department of Education and Training.
The conference has four main topics on the agenda: start-up education and start-up training support for students; creating an environment for start-up training support for students; sources of finance, support mechanisms and policies for start-ups by students; and start-up businesses set up from ideas, students' start-up projects and practical experiences of start-up companies in the city.
It seeks to create a forum for exchange of knowledge, skills, experiences, awareness, and responsibility to effectively implement programmes to support start-ups by city university and college students.
We should focus more on soft skills (empathy, inspiration and communication, belonging and teamwork, creativity and sensitivity) that make us uniquely human, which technology cannot replace, Chua said.
"So that we equip people to work alongside ever smarter machines and technology and who are being augmented rather than replaced by technology."
The two main driving forces of effective learning and teaching are implementation of new blended learning and teaching pedagogy, and the extensive use of smart technology, he said.
Trần Thiên Trà from Sài Gòn University's French Vietnamese Centre for Management Education talked about institutional factors affecting start-ups.
"Formal and informal institutional factors impact on start-up activities as well as the economic growth."
Formal institutional factors include public spending, access to funding, education, minimum capital requirements, and number of procedures to start a news business.
Informal factors are confidence in one's skill, entrepreneurial attitudes, innovativeness, control of corruption, social orientation, social trust, and social networks. — VNS
https://vietnamnews.vn/society/482296/hcmc-wants-entrepreneurial-students.html#4IwQCYPsk72xR7Gu.97